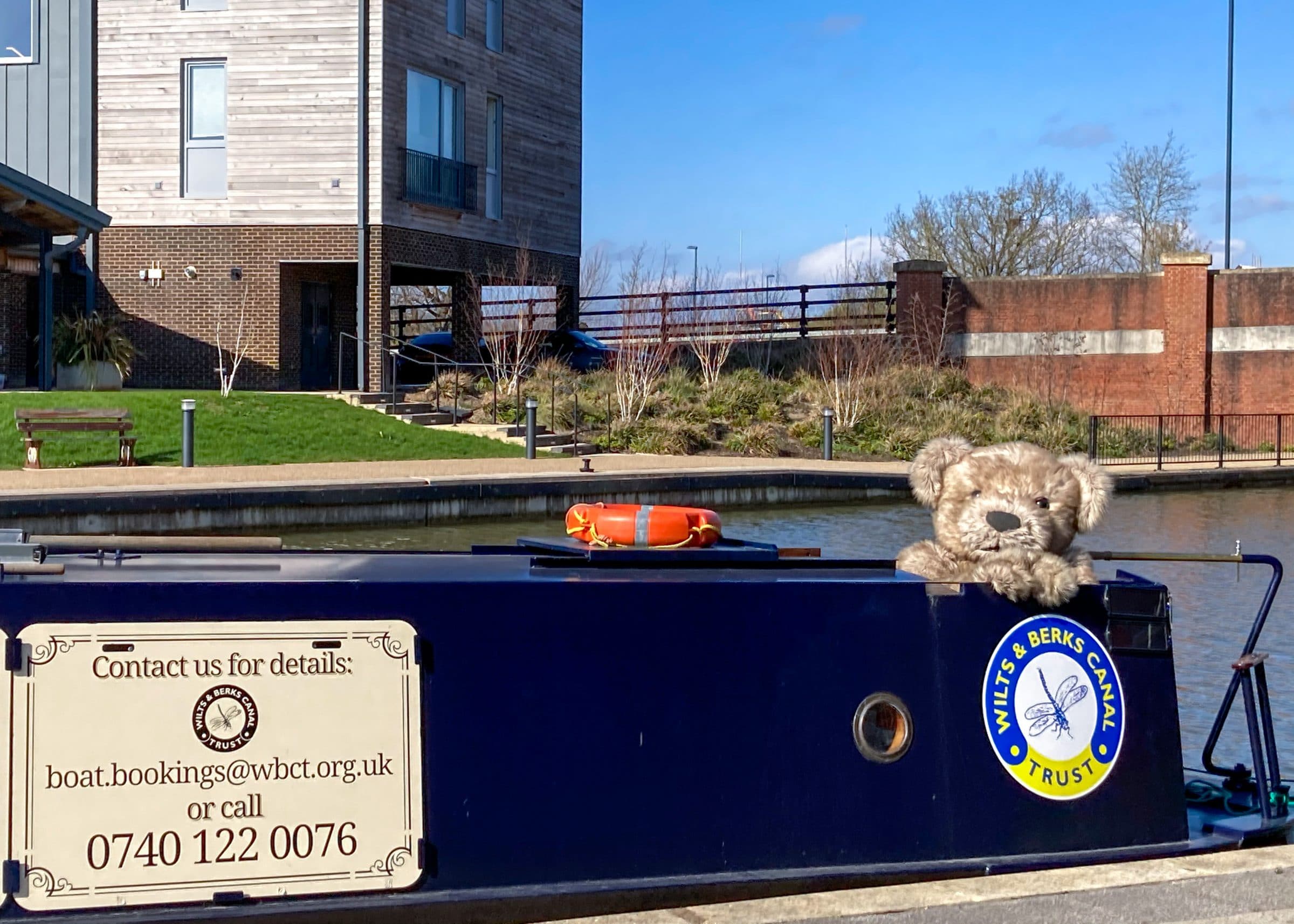 For Easter 2021 The Wilts and Berks Canal Trust enlisted our help to bring their Easter egg hunt alive! With the easter bunny otherwise engaged, our very own Bentley the Bear stepped up for his own 'egg'cellent adventure. 

Situated at the Dragonfly's permanent mooring in Wichelstowe, the Covid-safe event was a huge success and raised over £900 for the trust. Bentley was on hand throughout the weekend, and was a huge draw for families keen to celebrate both easter and the easing of restrictions. 
It was wonderful to be out and about again with Bentley after what feels like far too long. We loved being able to make memories for young and old alike, especially for the children that came back on the second day just to see 'their teddy bear'.  Even the police came for a selfie (and confirmed our operation was COVID safe!).
We (and the Canal Trust!) were surprised to see Bentley was a natural when it came to piloting narrowboats-
Whilst a huge success, this event did have its own unique set of challenges. Bentley is not a small bear, and requires his own 'den' to change in. The Canal Trust's boat, the Dragonfly served as our base for the weekend. It was quite a tight fit, but we made it work!
Equally, we were happy to be able to accommodate such a fast turnaround with the Canal Trust. Less than 24 hours after agreeing to use Bentley, we had him at the boat for promotional photos and a rehearsal. This was a lot of work to collect and prepare the costume in time, but good practice for us. We are proud to be able to offer fast turnaround for film and TV work, and this proved that we can still achieve this even when working with the current covid restrictions. 
We would like to thank the Wilts and Berks Canal Trust for having us at the weekend. We love being able to support charities and their fundraising, and we enjoyed every minute of it. 

If you are a charity and would like us to help at one of your events, please get in touch. 
Bentley was an absolute star, being a great hit with children, parents, grandparents and their dogs. We received many appreciative comments on Facebook, including several lovely photos. Bentley even came for a couple of rides on our trip boat Dragonfly, to the delight of all - he even tried to steal the boat (not really)! He really enhanced what was a great occasion, being the first time after lockdown that families could get out much - and we look forward to seeing him again whenever he's available.